Oktober in Leavenworth! As fun as it is to wear lederhosen, grab a pint and down a brat; there are other wonderful things to do in the beautiful town of Leavenworth in October. Like what? You say? Ziplines! Shopping, eating German fare and enjoying the scenery. If you have never been to Leavenworth, it is one of the most beautiful towns in Washington and quite possibly one of the most beautiful in the world. You may hear an affection in my tone when I speak of this quaint town and that is true because this is the place where I spent my Familymoon. Yes that's right my familymoon (Honeymoon/Family vacation) and it is time to return.
It was my son's 10th birthday and his last birthday as an only child. My wife and I decided we would make this year a big year for him. I sat him down and asked him…"What do you want to do for your 10th birthday?" He replied, "I want to zip line in Leavenworth". Really?? This is what 10 year olds think of? What happened to wanting action figures, cake and Ice Cream? I guess those days are long gone. The real perk is that we would be going with him and everyone wants to zip line right? And what a better place to go!
First of all the weather was the best of the year. The leaves were just starting to turn shades of red, yellow and orange. The air is crisp but the sun is warm and shining. The roads were bare except for the occasional accumulation of fall décor leaving the tips of trees. Leaving from Seattle was just a short jaunt to being immersed in greenery following Interstate 90. Once we reached the mountains my heart fell at peace. The rocky peaks and enormous wood not only allowed me to exhale but gave me a sense of adventure.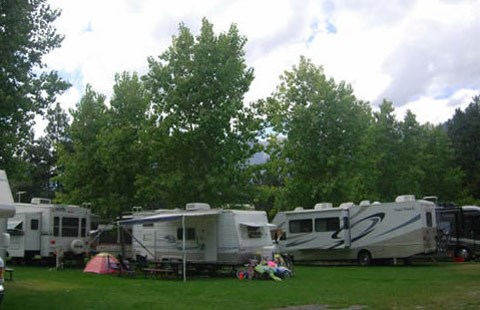 We left rather late on a Friday and ended up in Leavenworth by sun down. That was OK. We had some dinner and rested for evening. We arrived at the Pine Village KOA Campground. You couldn't want a better place to stay for the price. I have to admit Pine village was the best Campground experience I have had to date. The staff were not only friendly but informative and eager to please. We backed our truck into spot T16 adjacent to the river. There is nothing like waking up to the rushing water in the early morning and watching a family of deer passing by. We were surrounded by RV's great and small…uh…oh yes and lederhosen. Lots of lederhosen.
Everyone was decked out for the Oktoberfest celebration. The KOA had shuttles leaving to and from the festival until 3am for the safety of their guests. My wife and I being 8 months pregnant, spent time in the hot tub while the fest guests left and returned. We had great conversations with a couple from New Zealand and a younger gentleman from Munich Germany. Not only were there comforts for us but the KOA had a dog run for our Labradoodle. Later in the evening we had the munchies and made our way to the office/ store where I purchased an automatic rubber band gun for my son and some late night snacks. The KOA really thought of everything.
The morning got us to rise just short of 7 am to make our way into town and grab some breakfast. Looking online I found a number of great spots but the golden ticket went to The Icicle Village Resort J.J. Hills Restaurant. Buffet style, scramble eggs, Diced potatoes, Belgian style waffles with all the fixings, 2 types of sausage, Seattle's best coffee, 3 types of juices, hot cocoa and spiced cider. We sat outside on the deck in view of the Leavenworth hills. It was one of the best breakfasts we had in a while, to add an excellent view. The staff was very friendly and the price was great!
The main event happened at 9am at Mountain Spring Lodge in Leavenworth. There was a nervousness in the air as I was asking the staff about their safety process for Zip line tours, being it was our first time (My wife opted out being 8 months pregnant of course). Everyone was super helpful and eased my fears. My son however, was not phased by any of the concerns I presented. He just wanted to go! I remember being just like him. It seems as we get older our faith wanes. There is such innocence and simplicity in our youth. The tour took us 2 hours and had us elevating up to 200 feet, above trees, ponds and stretched out over 1400 feet. The feeling of jumping off the launch high in the trees supported by just a cable is both exhilarating and a bit shattering to my safety solid mind but it was probably what I needed.
The boy had a great 10th birthday. We saw great mountain views, enjoyed Bavarian food, mixed with the festival goers, did some shopping and road the Zip lines. Even our labradoodle had a great stay! We all agreed this is one of the best trips we have had. Leavenworth again solidified a great memory for us.
Editor: R. Norman